This site uses cookies. By continuing to use this site, you are agreeing to our use of cookies.

Learn More.
Hey SpainPvP users!
I saw in the poll that you guys liked all the styles so now you can set the theme that you want.

The default ,

the light blue

, the red or

the purple one

. (Just added the

orange

)

The only thing you need to do is go in this section: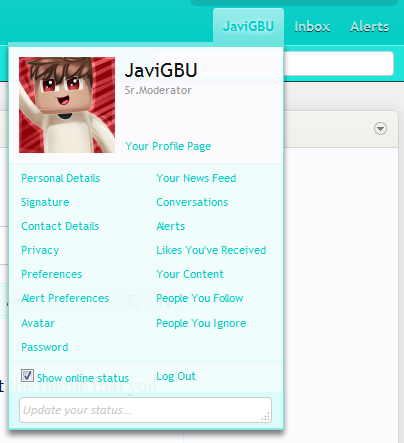 And click in "Preferences"



Now it will open a menu like this one :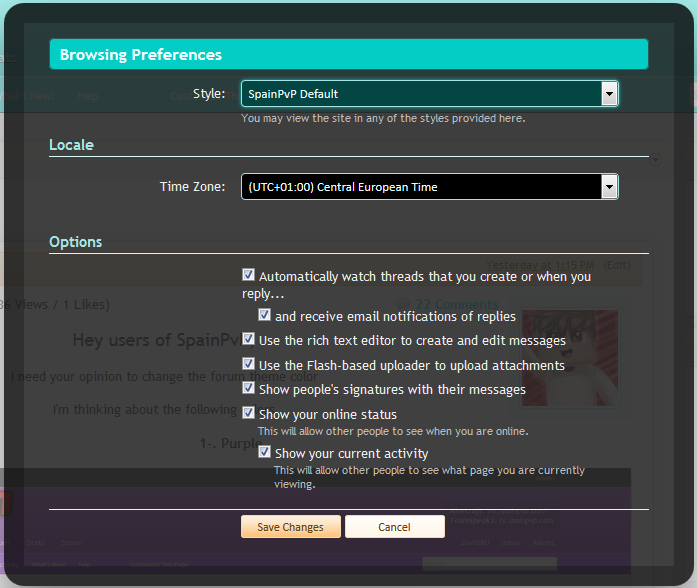 And there , in "Style" you can choose what color you want , then click in "Save Changes" button and that's it!
Enjoy the new forum colors!
​
Después de más o menos dos meses, finalmente tenemos aquí la segunda parte de la actualización del servidor. A parte de todas las optimizaciones y otras cosas internas que hemos modificado que los usuarios no notarán, aquí tenéis una lista de todo lo que hemos añadido en esta segunda parte:
- Nuevo modo de
DUEL
con nuevos mapas y sistema de ELO para las stats
- Añadida "racha máxima" o "maximum
killstreak
" a las stats del FFA
- Añadida scoreboard al FFA del servidor con información varia
- Nuevo comando para todo el mundo llamado /
options
/opt /settings o /cc donde podreis cambiar opciones basicas del servidor y los donors acceder a caracteristicas explisivas como
color de chat
,
mask
... [Proximamente el disguise tambien]
- Nuevo comando para los donors para cambiar su rango: /
mask
| /unmask (Tambien en /options o /opt)
- Nuevo
mapa
de FFA (por
@FineArts_
)
- Nuevo sistema de
antihack
con autoban:...
​
Hola a todos y bienvenidos a este evento tan esperado por alguno de ustedes! Casi la gran mayoría conoce este evento tan divertido que fue implementado hace algunos días. Hicimos un par de sesiones y observamos un gran apoyo de toda la gente y por eso decidimos hacer un post para organizar los horarios, brindar más información, darles la oportunidad de publicar comentarios, etc.

Preguntas:

¿Qué es la Open Mic Night?

Básicamente, en este evento lo que hacemos es reunir a todas las personas en un canal "Open Mic Night" en el cual muteamos a todos, y vamos desmuteando uno por uno a todos aquellos que quieran realizar una actuación, como por ejemplo: cantar, beatbox, etc.

¿Cómo puedo participar?

Para participar debes llenar el formulario en el siguiente link:...