This site uses cookies. By continuing to use this site, you are agreeing to our use of cookies.

Learn More.
Hey SpainPvP users
I made some changes on the forums :

1-. Created the "News & Announcements" section
In that section we will post everything related with changes on the forums , server or TeamSpeak.
Also maybe we'll post some event's information.
2 -. Moved "Server Bugs Report" and "General Support" sections to "Information & Support" category.
3-. Created a new tab , "Apply For Mod"

Some people gets confused because they don't know how to apply for moderator , but with this tab the only thing they need to do is click in it and then It'll redirect them to a post with all the information.

So that's it , if you have any other suggestion for the forum please PM me
JaviGBU , Sr.Moderator and Forum Manager.
​
Hey SpainPvP users!
I saw in the poll that you guys liked all the styles so now you can set the theme that you want.

The default ,

the light blue

, the red or

the purple one

. (Just added the

orange

)

The only thing you need to do is go in this section: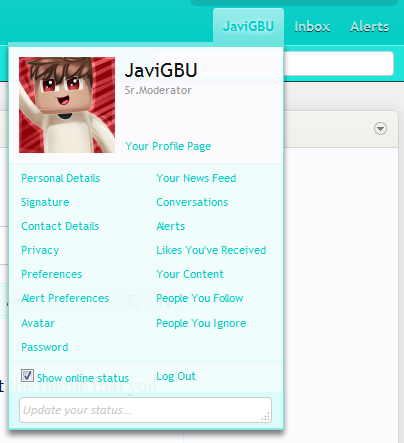 And click in "Preferences"



Now it will open a menu like this one :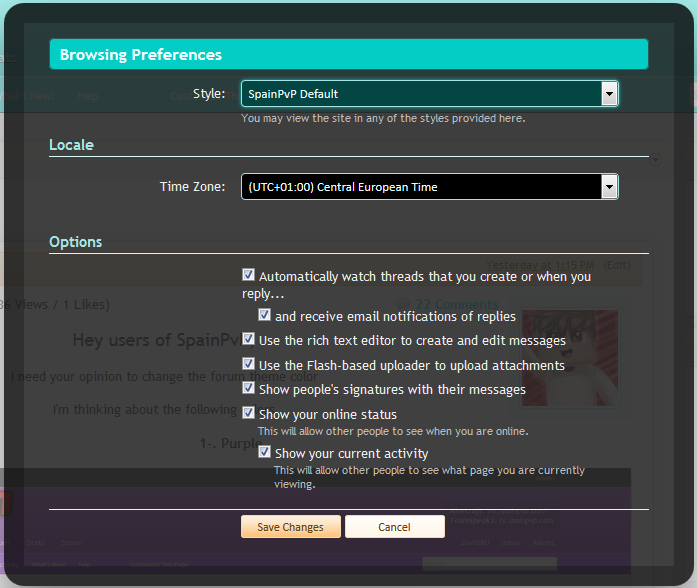 And there , in "Style" you can choose what color you want , then click in "Save Changes" button and that's it!
Enjoy the new forum colors!
​
Después de más o menos dos meses, finalmente tenemos aquí la segunda parte de la actualización del servidor. A parte de todas las optimizaciones y otras cosas internas que hemos modificado que los usuarios no notarán, aquí tenéis una lista de todo lo que hemos añadido en esta segunda parte:
- Nuevo modo de
DUEL
con nuevos mapas y sistema de ELO para las stats
- Añadida "racha máxima" o "maximum
killstreak
" a las stats del FFA
- Añadida scoreboard al FFA del servidor con información varia
- Nuevo comando para todo el mundo llamado /
options
/opt /settings o /cc donde podreis cambiar opciones basicas del servidor y los donors acceder a caracteristicas explisivas como
color de chat
,
mask
... [Proximamente el disguise tambien]
- Nuevo comando para los donors para cambiar su rango: /
mask
| /unmask (Tambien en /options o /opt)
- Nuevo
mapa
de FFA (por
@FineArts_
)
- Nuevo sistema de
antihack
con autoban:...