This site uses cookies. By continuing to use this site, you are agreeing to our use of cookies.

Learn More.


Hello fellow SpainPvP players! Today im pleased to introduce you that SpainPvP are going to start to host open mic nights. They are going to take place every first saturday each month at 8PM CEST.

What is this event about?

Well I shall tell you right away! An open mic night is basiclly people in the comminity that preforms diffrent performances such as beatboxing, songs, jokes and all between that area.
How can I participate in this fun event?

Our Sr.Mods will provide a google forum in where you have to apply on when the event itself is ongoing. Once you've applied you just have to remember your random code and then send it to an OMN Crew. Why are we asking you to do this? Because in the past, there was used to be some trollers that applied with other...
​
Hey SpainPvP users
I made some changes on the forums :

1-. Created the "News & Announcements" section
In that section we will post everything related with changes on the forums , server or TeamSpeak.
Also maybe we'll post some event's information.
2 -. Moved "Server Bugs Report" and "General Support" sections to "Information & Support" category.
3-. Created a new tab , "Apply For Mod"

Some people gets confused because they don't know how to apply for moderator , but with this tab the only thing they need to do is click in it and then It'll redirect them to a post with all the information.

So that's it , if you have any other suggestion for the forum please PM me
JaviGBU , Sr.Moderator and Forum Manager.
​
Hey SpainPvP users!
I saw in the poll that you guys liked all the styles so now you can set the theme that you want.

The default ,

the light blue

, the red or

the purple one

. (Just added the

orange

)

The only thing you need to do is go in this section: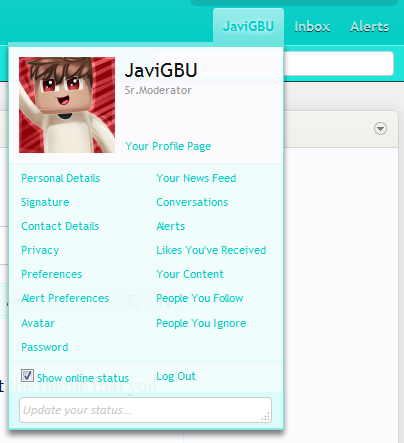 And click in "Preferences"



Now it will open a menu like this one :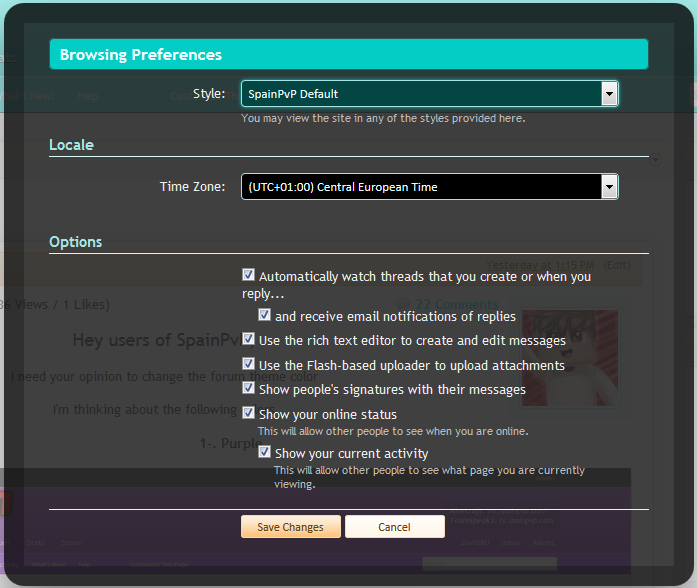 And there , in "Style" you can choose what color you want , then click in "Save Changes" button and that's it!
Enjoy the new forum colors!
​